Animal Crossing: 15th Anniversary, special video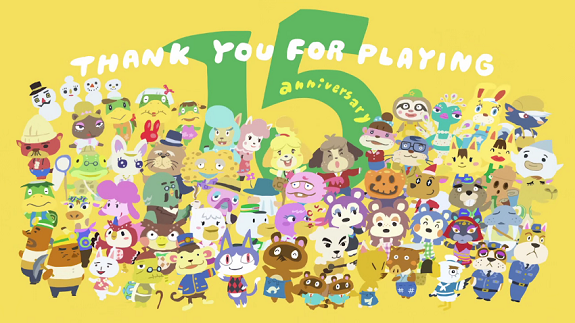 This year, several major series from Nintendo celebrates their Anniversary: The Legend of Zelda (30th), Metroid (30th) and Pokémon (20th). But in fact, there's a more recent series which also celebrates its Anniversary today… Animal Crossing, who turns 15th today. Indeed, it's 15 years ago that the very first Animal Crossing game, on Nintendo 64, was released in Japan (it never made it to Europe or North America).
To celebrate the 15th Anniversary of the Animal Crossing series, Nintendo uploaded a special video looking back at the various games in the series (NB: the dates are for the Japanese releases):
Doubutsu no Mori (Nintendo 64) – April 14th 2001
Doubutsu no Mori + (GameCube) – December 12th, 2001
Doubutsu no Mori e+ (GameCube) – June 27th, 2003
Animal Crossing Wirld World (Nintendo DS) – November 23rd, 2005
Animal Crossing: City Folk / Let's Go to the City (Wii) – November 20th, 2008
Animal Crossing: New Leaf (Nintendo 3DS) – November 8th, 2012
Animal Crossing Plaza (Wii U) – August 8th, 2013
Animal Crossing: Happy Home Designer (Nintendo 3DS) – July 30th, 2015
Animal Crossing: amiibo Festival (Wii U) – November 21st, 2015
It's pretty interesting that Nintendo included the Animal Crossing Plaza "game" on Wii U, but not the Nintendo DSi app or Photos with Animal Crossing (on Nintendo 3DS).
Here's the special video for the Animal Crossing 15th Anniversary:
And you, what was your first Animal Crossing game, and which one is your favorite?
Source: Nintendo