Super Mario Odyssey: all the details, pictures, GIFs, videos from the official Twitter accounts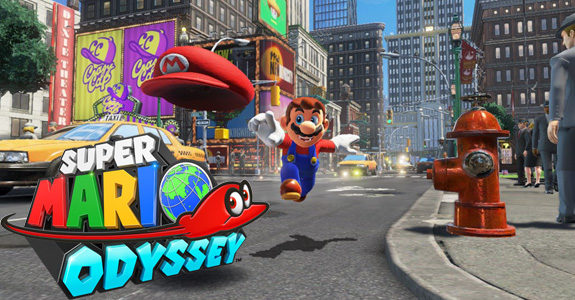 Just like Splatoon 2 and ARMS, Nintendo started sharing regular updates for Super Mario Odyssey on Twitter (via the brand new Super Mario account), with details, pictures, GIFs, videos, and more. And just like with Splatoon 2 and ARMS, we're going to round them all in this post, for your viewing convenience!
NB: only the details, pictures, GIFs, and videos for the current period can be found on this page. Also, this post gathers content from both the English and Japanese accounts, so you can be sure there isn't a single picture or video you're missing!
September 19th
Over the past few days, Nintendo shared the following:
screenshots for Uncle amiibo: by tapping an amiibo, you can mark the location of Power Moon on the map. The game is compatible with all amiibo, but some of them allows you to unlock some special costumes too!
screenshots for Talkatoo (a talkative bird that can give you hints about the location of Power Moons) and a special Toad that can help you find Power Moon… though only if you pay him!
screenshots for Tiara, Cappy's sister. She was living peacefully in the Cap Kingdom, when suddenly Bowser kidnapped her and put her on Peach's head;
screenshots for Photo Mode, that allows you to "stop time" and then take pictures. You can also edit the pictures, by changing colours, adding the Super Mario Odyssey logo, and much more.
September 13th
Today, Nintendo shared a new screenshot, showing a unique variant of Goombas: they're yellow/gold-ish. Unlike regular Goombas, they cannot be captured: if you try to throw Cappy at them, you will simply blow them away. If you shake the Joy-Con, you can make Cappy rotate and kill them all in one go!
September 12th
Today, Nintendo shared one new screenshot for Super Mario Odyssey, that shows a mysterious set of footprints. Who or what do they belong to, and where are they leading to?
September 11th
Today, Nintendo shared another video clip for Super Mario Odyssey, that shows Mario capturing binoculars. Because, yes, you can capture those too! Doing so allows you to use it, and see things in the distance. Who knows what you could find thanks to those handy binoculars, which can also be found in other Mario games (such as Super Mario 3D Land, for example).
おはようございます。
この「望遠鏡」にキャプチャーすると、箱庭世界を俯瞰して見ることができるんです。上から眺めれば、きっと新しい発見が…! pic.twitter.com/p2b7WbczI0

— スーパーマリオ オデッセイ (@mario_odysseyJP) September 10, 2017
Previous posts:
Source: Nintendo (Twitter)