Star Fox Zero / Guard: trailer, new details, and screenshots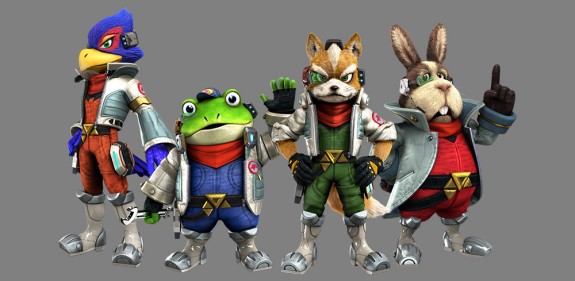 Today, Nintendo sent a press release to reveal new details and screenshots for both Star Fox Zero and Star Fox Guard, along with a brand new trailer.
Here's the trailer:
Star Fox Zero
Nintendo reveals that Star Fox Zero will feature Training Missions, allowing players to get used to and master the unique dual-screen gameplay. It's actually possibly to go back to those once you've improved, in order to get a better score. After that, you'll be ready to tackle the missions of the Main Story mode.
As mentioned previously, each level features hidden collectibles and alternate routes to find (something that will keep completionist busy!). Nintendo gives an exemple: in Fortuna (a planet where plenty of bioweapons can be found), the standard route leads to Monarch Dodora (a boss). Alternatively, you can chose to follow Star Wolf instead.
Nintendo also confirms the amiibo features:
the Falco amiibo unlocks the Black Arwing, which is more powerful (it even allows you to lock-on to several enemies at once), but also more vulnerable to enemy attacks;
the Fox McCloud unlock a special Arwing from the original Star Fox game, complete with retro music (unfortunately, it can only be used on Corneria).
Star Fox Zero also includes a demo of Star Fox Guard, which can be found via the main menu of the game (it doesn't look like it will be available for download on the Nintendo eShop). Your save data can carry over to the full game, in case you like the demo and want to play the full thing!
Head after the break for details and screenshots for Star Fox Guard!
Star Fox Guard
Star Fox Guard is a standalone game in which you use cameras to defend mining sites against waves of enemy robots. As seen on the boxart, the game is indeed compatible with amiibo. If you scan either the FoxMcCloud or Falco amiibo (only once a day), you can call in team Star Fox for a powerful air strike that destroys attacking robots.
By completing missions, you get rare metals, which can be used to unlock new missions, but also purchase new cameras with special abilities (such as slowing down or even freezing enemies). My Squad is the name of the mode that lets you create enemy patterns, which can then be shared with other players via the internet. As for Star Strategists, it's a feature that allow players to play one popular challenge from across the globe.
Star Fox Guard will be available as:
part of the Launch Edition (only way to get it on a disc);
a download code at retail (sold in a box, but without a disc);
on the Nintendo eShop: if you chose this option, you can get £3.00 / €5.00 off Star Fox Zero (you can also get £3.00 / €5.00 off Star Fox Guard if you buy Star Fox Zero from the Nintendo eShop). Both games will then cost £49.98 / €59.98, which implies that Star Fox Guard alone costs 14.99€.
Finally, here's some screenshots for Star Fox Guard:
Star Fox Zero (Wii U) and Star Fox Guard (Wii U eShop) both come out on April 21st in Japan, and April 22nd in Europe and North America.
Source: Nintendo