Bravely Second: Famitsu preview (March 26th)
Famitsu just published its usual weekly previews, and in this week's issue, there's an article for Bravely Second: End Layer. And good news: it looks like there's some cool stuff in there, including two new jobs:
– Chariot: a job focused on physical attacks; its asterisk holder is named Cú Chulainn (voiced by Tetsu Inada)
– Wizard; its asterisk holder is Ayame (voiced by Akiko Yajima).
The magazine also has some more information about new returning asterisk holders (like Barbarossa and Praline à la mode), but also the CapCap Maker mini-game (showcased in today's new developer video).
Here's the preview from Famitsu magazine: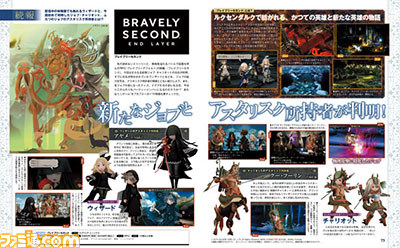 Bravely Second: End Layer (3DS) comes out on April 26th in Japan.
Source: Famitsu