Star Fox Zero: Miyamoto talks about the original game, the long wait for a new entry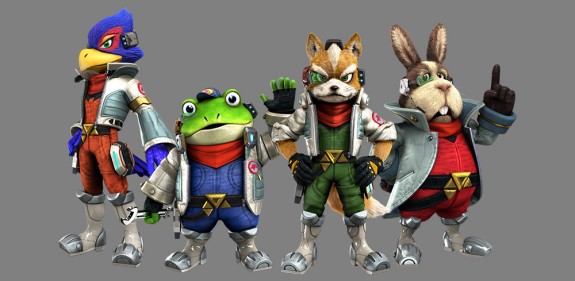 Back in July, during the Japan Expo (in France), Nintendo held a master class with Shigeru Miyamoto about several upcoming Wii U games (such as Super Mario Maker). Today, Nintendo France uploaded the recording of the segment dedicated to Star Fox Zero, with an interview of Shigeru Miyamoto.
The first thing they talk about is the very first Star Fox game on the SNES. Shigeru Miyamoto explains that, at the time, they wanted to make a game with polygons (which is why they went and added a special chip on the cartridge to make sure the SNES could run it). The goal was to create a shooting game that everyone could enjoy.
After that, they tried to create characters. Since Shigeru Miyamoto did like to draw anthropomorphic animals as a child, he asked the designers to start drawing some. One of them was a fox, and Miyamoto really liked it (he thought it was a great fit for a shooting game), so they went and created other characters as animals. The end result was pretty reminiscent of a puppet show.
Another source of inspiration is the Fushimi Inari-taisha, which is located close to where Shigeru Miyamoto lives (it was shown in the developer video at E3). It's one one of the most popular shrines in Kyoto among foreign tourist who come visit Japan. There, statues of foxes (kitsune) can be found: they are said to be the messengers of the gods (and what inspired Miyamoto).
There's also a lot an impressive number of gates (torii) at this shrine, which definitely make you think of the many "gates" the player go through with the Arwing in Star Fox. Finally, Miyamoto explains that the local baseball team is called the Inari Foxes. All of this isn't really new, as Shigeru Miyamoto already talked about it in the Iwata Asks interview about Star Fox 64 3D.
Finally, Shigeru Miyamoto explains why it took so long for a new "regular" entry in the Star Fox series to be developed (after several spin-offs and games by external developers). Star Fox Zero actually originates from one of his experimentations about dual-screen gameplay, with the GamePad.
In this experimental game, the player controls a plane using the two screens, with a cockpit view on the GamePad. Shigeru Miyamoto thought it would be ideal for Star Fox. After that, they took Star Fox 64 as base, added the new controls, and changed pretty much everything else (actual plot, locations, etc.).
The reason they called it Star Fox 0 (and not Star Fox 6 or 7) is because there's so many new elements in the game. It's also the very first time in a long while where Shigeru Miyamoto himself was Director. Finally, since he finds the kanji for zero (rei) pretty, he decided to put in in the title, on the logo.
Here's the recording of Shigeru Miyamoto's interview (French-only for now, but Nintendo should upload a version with English subtitles within the next couple of days):
Star Fox Zero (Wii U) comes out on April 21st in Japan, and April 22nd in Europe and North America.
Source: Nintendo