Shovel Knight: new update coming soon (Ver. 2.2)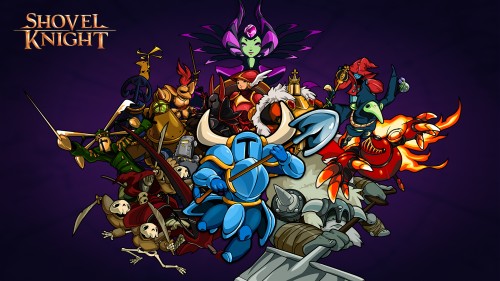 Yesterday evening, Yacht Club Games revealed that a new update for Shovel Knight was coming soon. In fact, it's already available on Steam right now, and it will be released for the other versions (including Wii U and Nintendo 3DS) pretty soon. It brings some new additions, a couple of adjustments, and a lot of fixes (with some only for the Wii U and Nintendo 3DS versions).
Here's the full changelog for Ver. 2.2 of Shovel Knight:
New additions
New: [Plague] Mail Minion will now read a letter to you which includes all sorts of neat stats.
New: [Plague] Minion can now appear within Plains of Passage to explain how to perform a bomb burst in case you're stuck!
New: [Plague] Shovel Knight's Secret Palette Cheats now work when playing as Plague Knight (Plague uses #1-16, SK uses #1-32)
Adjustments
Adjustment: [Plague] vs Propeller Knight has been tuned to be less difficult.
Adjustment: [Plague] Alchemy menu is slightly faster to open, close, and select items.
Fixes
Fix: [Plague] Lock up when defeating Mole Knight when Mole Knight is hiding in the wall.
Fix: [Plague] Health display inconsistencies when upgrading health while maxed out on health tonics.
Fix: Re-added some missing treasure in the first enemy map encounter
Fix: Item Completion percent surpassing 100%. (armors were being counted twice)
Fix: Crash when defeated by Mr. Hat, quitting while in the Fancy Shop, or returning to the fancy shop after defeating Mr. Hat in the Armor Outpost. (2.1 only)
Fix: Player can collect pickups while in chest open surprise animation.
Wii U and 3DS fixes
3DS & Wii U: [Plague] Relic heap icons appear on the touch screen now too!
3DS: Crash when viewing Plague Knight Feats in German while stereoscopic 3D is enabled.
3DS and Wii U: [Shovel] Fixed crash when exiting stage while the Troupple Chalice is selected. (2.1 only)
3DS and Wii U: [Plague] Fixed crash (and made other improvements) when using relic quick and arcana touch menu at the same time.
3DS: Fixed crash when quitting to world map when recording a ghost in the StreetPass arena while playing with Custom Knight. (2.1 only)
Wii U: [Co-Op] Treasure Knight Chest doesn't pull in respawning players
If you live in North America, you will get Ver. 2.2 right away, and Ver. 2.1 will not be released.
Finally, if you want to learn more about the development of the Shovel Knight amiibo and its related features, click here to read NintendoLife's interview with Yacht Club Games!
Source: Yacht Club Games