Paladins (Switch): Software updates (latest: Ver. 1.8 – Hotfix #1, Ver. 1.9 coming soon)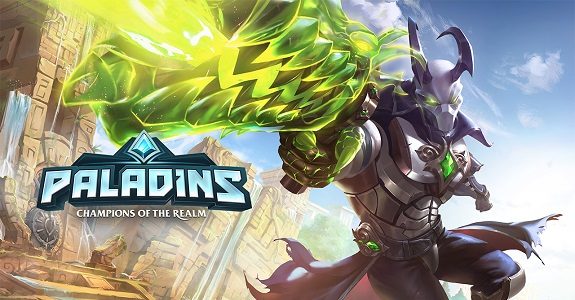 On this page, you will find all there is to know about the Software updates for Paladins on Nintendo Switch (originally released on June 12th 2018 in Europe, North America, and Japan)
How to download updates for Paladins for the Nintendo Switch?
To download the updates for Paladins on Nintendo Switch, you have three options:
let the console do its thing if you have automatic downloads activated, and didn't completely turn it off
If not…
try to launch the game from the Home Menu while being connected to the internet. You should get a prompt when doing so: simply follow the instructions on screen;
OR
select the game > press either + or – to go to the Options page > select Software update > select Via the Internet.
To check that you have the latest version installed, simply select the game's icon in the Home Menu and press – or + to get to the options screen. The version number is displayed below the title.
Click here for more Software updates!
Paladins – Ver. 2.01
Release date: January 2019 (North America, Europe, Japan)
Patch notes:
No patch notes available yet.
this update enabled cross-platform play
adds Imani: The Last Warder
Additional notes: none.
Source: Hi-Rez Studios
Paladins – Ver. 1.9
Release date: ???
Patch notes:
Patch notes can be found on this page!
Paladins – Ver. 1.8 – Hotfix #1
Release date: November 28th 2018 (Europe, North America) / November 29th 2018 (Japan)
Patch notes:
Fixed an issue where Terminus' Ultimate would be disabled if the player died while jumping
Paladins – Ver. 1.8
Release date: November 15th 2018 (North America) / November 16th 2018 (Europe, Japan)
Patch notes:
Battle Pass 3 – Remix

Instant Unlocks (Exclusive to Battle Pass Purchasers)

Remix Strix – New Legendary Skin!

Features unique VFX and Music

Exclusive "Beat Mania" EDM Music Pack
Exclusive "Equalizer" Animated Loading Frame
50% Boost for the duration of Battle Pass on Battle Pass Experience, Account Experience, Champion Experience, and Gold Earned

Epic Tiered Rewards (Exclusive to Battle Pass Purchasers)

Level 10

Remix Seris – New Legendary Skin!

Features unique VFX and Music

Level 20

Level 30

Remix Pepper – New Legendary Skin!

Features unique VFX and Music

Level 40

Level 50

Remix Jenos – New Legendary Skin!

Other Battle Pass Exclusive Unlocks

Team Skin Boosters – New!

Unlock all non-limited skins for you and your team!

Static Sprays
Animated Spray
Avatars
Community Avatars by MECHii and Rubiini
Roaming Dance Emotes

MVP Poses

Legendary MVP

Khan, Sentinel
Strix, Recline

Rare MVP

EDM Role Chests

The Role Chests make their return featuring Voice Packs, recolors, and a Legendary Dance emote for all roles.

Challenges

Complete Battle Pass Challenges for experience to help speed your way through the rewards track. Completing all 5 Tiers of Battle Pass Challenges unlocks the limited title "The DJ".

New Team Deathmatch Map: Dragon Arena

Dragon Arena, inspired by the Dragon's Call event, is our newest Team Deathmatch Map. Explore a Warder training ground where the ancient dragon masters once honed their skills.

Powerup

Located in the center building
Provides 100% Ultimate Charge to the Champion who picks it up
Respawns every 60 seconds

Obsidian Pack

Ride into battle atop a gleaming Obsidian Warhorse and speed up your Battle Pass progress with the new Obsidian Pack!

Price: $14.99

Obsidian Warhorse – New!
200 Crystals
3,000,000 Battle Pass Experience

Console

Gyro Control Functionality

Allows the player to move their camera by physically moving the game controller
The sensitivity of Gyro Controls allows players to easily fine-tune their aim
Players trying Gyro Controls for the first time should be patient and play many matches to develop their reflexes and aiming capability
Experienced users may adjust their X and Y axis Gyro sensitivity

General

Dark Tides Event Ending

The Dark Tides event will come to a close with the release of 1.8. Players who have not spent their Vault Key will have it converted into Iron Madam Inara.

VFX/Music Skin Tech

The VFX and Music technology used for Raeve Maeve has undergone several improvements to VFX visual fidelity and consistency of audio feedback.

Equipping the EDM Weapons from Jenos, Strix, and Maeve will modulate the brightness of non-EDM skin effects to the beat of the Weapon music.

Gifting

Want to buy your friend an Epic skin or thank the player who carried your last Ranked match? 1.8 introduces the ability to purchase gifts for your friends! The Gift menu can be accessed from the Paladins main menu and will allow you to purchase one of three gifts for players on your friend list.

Large Gift: 300 Crystals

Contains Epic and Legendary skins along with two Rare Mounts

Medium Gift: 75 Crystals

Contains Rare and Epic Skins, emotes, weapons, and sprays

Small Gift: 50 Crystals

Contains Rare and Epic Emotes, titles, and MVP Poses

You can send gifts with your name attached or anonymously. You can also include the following messages with your gift:

Thank You!
You are Awesome!
Let's Play Again!
Happy Holidays
Happy Birthday
This one's on me
GG

New Chest Screen

Our chest opening scene has been completely re-hauled. The new scene includes a brand new chest opening animation and a full 3D Champion model of the opened skin, emote, or MVP pose.

Test Maps

Three Tests Maps are back for a limited time during 1.8. Players can access the Test Map queue in their Quick Play settings.

Rush (Siege)
Hangar 18 (Siege)
Arid (Siege)

New Splash Art

Barik: Team Fortress 2
Bomb King: Default, Monarch
Buck: Buck Wild
Fernando: Default, Daring
Maeve: Alley Cat

Customizations

Skye Visual Rework

Skye has undergone a visual rework. Now The Twilight Assassin looks more like she belongs in our fantasy Realm — the sort of Champion who might have once worked for The Thousand Hands.

The old default Skye is now named Twilight and will be purchasable for 1 Gold during 1.8.

Default – New!
Guild Skye – New!

Festive Chest

The Festive Chest is making a return to the Realm! Celebrate the winter holidays in some holly jolly skins, now including the all new Cuddly Moji skin inspired by TheGrowingSeed's fantastic Sock Puppet Moji art.

A portion of the sales from each Festive Chest roll will benefit Child's Play, a charity that seeks to improve the lives of children in pediatric hospitals and other child welfare facilities by providing games, toys, and books.

Contents

Epic Skins

Cuddly Moji – New!
Merrymaker Evie
A-bomb-inable Bomb King

Weapon Skins

Mal'Damba, Spitzen
Jenos, Polaris
Makoa, Snow Cannon
Barik, Festive Blunderbuss
Pip, Festive Launcher
Sha Lin, Jolly Longbow

Mounts
Legendary Emotes
Voice Packs

Convention Skin

Coldsnap Furia – New!

Link your Mixer account and watch HRX live broadcasts to unlock Coldsnap Furia, FREE! Stay tuned for more details over the next couple of weeks.

Mastery Skins

Golden Ash – New!

Unlocked by reaching Mastery Level 50 on Ash

Golden Grover – New!

Unlocked by reaching Mastery Level 50 on Grover

Golden Skye – New!

Unlocked by reaching Mastery Level 50 on Skye

Esports Chest

The follow skins have been added to the Esports Chest, obtained from watching select eSports broadcasts on mixer.com/paladinsgame.

Blood Moon Cassie
Quicksilver Ying

Balance

Androxus

Talents

Heads Will Roll

Removed Headshot Damage Increase
Increased Ammo Bonus 2 ➡️ 3

Drogoz

Abilities

Fire Spit

Reduced Damage 1000 ➡️ 900

Salvo

Viktor

Furia

Talents

Solar Blessing

Added unique sound on Pyre Strike for allies when Solar Blessing is equipped.

Lex

Magnums

Reduced Damage 350 ➡️ 320
Increased Ammo Capacity 10 ➡️ 12
Increased range at which damage falloff begins
Reduced severity of damage falloff

Abilities

In Pursuit

Reduced Damage 1050 ➡️ 960

Willo

Talents

Nightshade

Reduced Damage Bonus 800 ➡️ 500

Abilities

Dead Zone

Reduced anti-healing duration after exiting deadzone 2s ➡️ 1s

Kinessa

Talents

Eagle Eye

Reduced Headshot damage increase 50% ➡️ 25%

Bug Fixes

Champions

Ash

Fixed an issue with Assert Dominance that led to a jittery jump experience

Terminus

Fixed an issue that led to a jittery Shatterfall experience
Fixed an issue where the "Playing God" card did not function
Fixed an issue where the "Strength of Stone" card did not function

Buck

Fixed an issue that led to a jittery Heroic Leap experience

Fernando

Fixed an issue where you could not headshot Fernando from certain angles

Grover

Efflorescence now properly doubles the passive healing from Blossom on Grover without the need to die first

Kinessa

Fixed an issue where the "Quick Scope" card was granting less of a benefit than intended

Lian

Fixed an issue where Presence was not counting as a weapon attack

Mal Damba

Fixed an issue that caused an incorrect icon to display for Snake Toss in the death recap screen

Audio

Fixed a systemic issue where sounds would stop playing after the first time

Bots

Bots are now properly awarded credit for assists

Maps

Fixed a collision issue with a rock formation that allowed players to clip into the map on Jaguar Falls
Fixed a collision issue in the spawn rooms that caused players to get stuck in Maurader's Port
Fixed a collision issue within the maps combat space that caused Talus to get stuck while using his Ultimate in Maurader's Port

Match Queues

First Win of the Day rewards enabled on Training maps

UI

Portraits of champions in rotation are now colored in even if they aren't owned
Champions in rotation are displayed as such even if they are owned
Healing values for scoreboard and MVP awards in the end of match lobby now show the same number
Talents now have a hover-over description on the Scoreboard
Players can set actions like "Reload" to the mouse wheel and it will correctly function in game now
While in the item store, you can now press tab to view other player's loadouts
FWOTD indicator visible from the start now
Starting a shooting range match no longer causes Viktor to be displayed on the UI
The "Return to Lobby" button now appears in all training and custom matches
Players can now unmute teammates in match with the mute button