LEGO Dimensions: new expansion packs officially revealed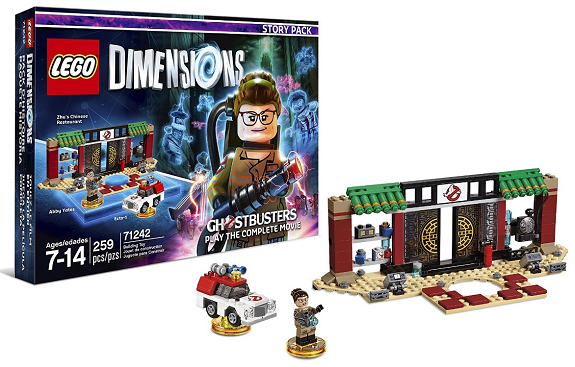 Following the leaks earlier today, Warner Bros. has officially announced the new expansion packs for LEGO Dimensions. Good news for those who thought what leaked was all that was going to be announced: there is in fact way more than that!
On September 27th onward, LEGO Dimensions packs based on the following franchises and IPs will be released:
Ghostbusters Story Pack: includes 6 levels, new LEGO Gateway bricks (allowing you to build Zhu's Chinese Restaurant), buildable Abby Yates LEGO minifigure, Proton Blaster, 3-in-1 buildable Ecto-1 (which can be rebuilt into the Ectozer and The PerfEcto). The pack also unlocks "Rip," (new Toy Pad mode which allows to open an alternate universe. There, players can solve puzzles, which has an impact on the primary universe.). Finally, Abby Yates provides access to a new Adventure World, with a Battle Arena.
Adventure Time Level and Team Pack
Mission: Impossible Level Pack
Harry Potter Team Packs
The A-Team Fun Pack
After that, the following franchises and IPs will get their own expansion (released in waves, all the way to Summer 2017):
Fantastic Beasts and Where to Find Them
LEGO Batman Movie
The Goonies
Sonic The Hedgehog
Teen Titans Go!
LEGO® City Undercover
Knight Rider
The Powerpuff Girls
Gremlins
Beetlejuice
E.T. The Extra-Terrestrial
The best thing? All those will work with packs from Wave 1 to 9, and will not require a new Starter Pack (which means that the original LEGO Toy Pad is compatible).
But that's not all: the expansion will offer all-new Battle Arenas, for some "competitive" split-screen multiplayer (up to 4 players, local only). The LEGO figures included in Wave 6 to 9 will come with golden Toy Tags, which unlock a Battle Arena within the Free Play Adventure World of the corresponding franchise. Each Battle Arena is unique: four different gameplay modes, specific traps, special powers, and unique "interactive environments".
Here is the latest trailer for the game:
Our Upcoming Releases page will be updated momentarily!
Source: Warner Bros. PR