Investor Briefing (Oct. 2016): Kimishima talks of the impact of Pokémon GO on 3DS and games
During the usual meeting with investors, which always follows the presentation of the latest financial results, Nintendo talked about the impact of Pokémon GO on sales of Nintendo 3DS Hardware and Pokémon games on that platform. Tatsumi Kimishima explained that the incredible popularity of Pokémon GO led to increased interest in Pokémon games.
That includes the latest entries on Nintendo 3DS, such as Pokémon X, Y, Omega Ruby, and Alpha Sapphire, but also the Virtual Console release of Pokémon Red Version, Blue Version, and Yellow Version: Special Pikachu Edition. They have all seen an increase in sales, despite them having released several months (and even years in the case of Pokémon X and Y) before Pokémon GO.
Next, Tatsumi Kimishima showed the following graph: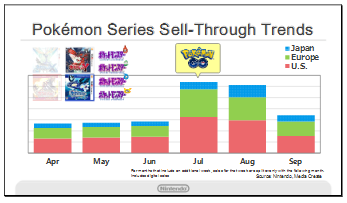 It shows the sell-through trends for Pokémon games during the first half of Fiscal Year 2016-17. The increase in sale due to Pokémon GO is quite visible, and was stronger in North America and Europe than in Japan (where Pokémon GO wasn't launched until July 22nd). In August, sales increased in Japan in part due to the Summer holidays.
The second graph shows the sell-through trends for Nintendo 3DS Hardware: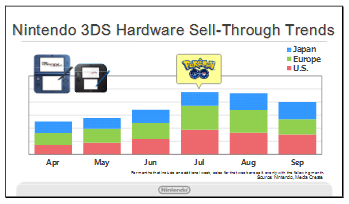 The impact on sales is also quite noticeable, and while sales did peak in July, they remained strong in August and September.
Finally, Tatsumi Kimishima talked about the Pokémon GO Plus accessory, launched last month. He explained that demand far exceeded their expectations, and since production hasn't caught up yet, there are now shortages pretty much everywhere. Naturally, Nintendo is planning to expand production, which is something that is becoming increasingly urgent as the holiday period is drawing near.
Source: Nintendo