Investor Briefing (Jan. 2017): Kimishima on the Nintendo Switch (pre-orders, line-up)
During the usual meeting with investors, which always follows the presentation of the latest financial results, Tatsumi Kimishima talked at great lengths about the Nintendo Switch.
First, Tatsumi Kimishima re-confirmed that the Nintendo Switch would not be sold at a loss (unlike the Wii U). Production is going well, but it doesn't look like Nintendo is planning any increase for the moment, so the company is still planning on shipping 2 million units by the end of March. That being said, Nintendo is already making preparations to ensure continuous shipments after launch.
According to Kimishima, many retailers have already stopped taking pre-orders, allocating remaining units for launch day (it's something we previously mentioned in another post). For the president of Nintendo, the strong pre-orders are a "reassuring proof that the core gamer demographic understands the uniqueness of the Nintendo Switch and continues to support" Nintendo.
Next, Kimishima shared pictures of players trying out 1-2-Switch at hands-on events: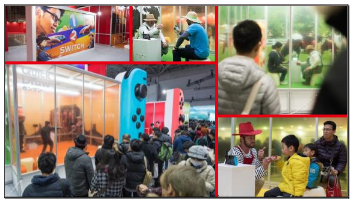 He explains that with 1-2-Switch, literally any space can be turned into a game world. You just need two controllers and the main units, and you're good to go. Kimishima hopes that people enjoying it will pass on the fun, generating buzz.
The following slides show the launch line-up for the Nintendo Switch in Japan, along with other Nintendo titles announced so far:
Regarding the launch line-up, that quite a few people find weak, Tatsumi Kimishima explains that the main reason behing their reasoning was to space out releases, in order to have new games released on a regular basis (without big gaps in-between titles). That way, players are more likely to use the console regularly, and this should help maintaining buzz and sales momentum.
It's for this reason that Mario Kart 8 will be released on April 28th, ARMS during the first half of 2017, and Splatoon 2 this Summer. Speaking of Splatoon 2, Kimishima notes that it's the one title that drew the most attention at the hands-on events in Japan (no surprise, with how big Splatoon got on the Wii U).
For Kimishima, the titles mentioned above "exemplify the concept of the Nintendo Switch, which is to beable to play anywhere with anyone and at any time, and will expand and invigorate competition between players".
Back to Splatoon 2, Kimishima points out that it will have voice chat, something that fans in Europe and North America have been requesting. It also offers local multiplayer with up to 8 players, which is apparently something pretty important for Nintendo.
Indeed, the company is working on "creating titles and environments to invigorate the competitive gaming scene so that a wider demographic of customers can enjoy, talk about, and continue playing the Nintendo Switch." 8 player local multiplayer is indeed going to be pretty useful for the competitive scene, especially with titles like Super Smash Bros..
Finally, Tatsumi Kimishima talks about the many developers that want or are already developing games for the Nintendo Switch. During the Nintendo Switch Presentation 2017, on January 13th, it was announced that there were about 80 titles in development, from 50 publishers.
But following the presentation, Nintendo received even more requests from developers, and right now, there are over 100 titles in development, from 70 publishers.
The Nintendo Switch will be released on Marhc 3rd, worldwide.
Source: Nintendo