Indie news (April 26): Candle / Pankapu
Today's Indie news:
Candle
Antipole DX
Pankapu: the Dreamkeeper
Candle
Candle is a puzzle/adventure game coming soon to the Nintendo eShop of the Wii U. You play as Teku, who has to save his tribe's shaman from the vile Wakcha Cla. Naturally, doing so won't be that easy: the way is paved with traps and trials. To succeed, players have to pay close attention to their surroundings, and use their deductive skills. Teku's hand is actually a candle: he can use it either to fend off enemies, or to light dark places.
Candle features hand drawn watercolor visuals: all backgrounds, characters and objects have been individually painted and scanned for the game!
Here's the main features:
Pay close attention to all details to solve the challenging puzzles;
Players will be able to tap into the power of the flame;
Remarkable visual style: hand painted watercolor images will make the game a vivid painting;
Beautiful soundtrack with a South American flaire.
And finally, here's some screenshots:
Antipole DX
Yesterday, Saturnine Games shared another screenshots for Antipole DX on Miiverse. It shows the same reverse gravity level as last time, but this time it's from a platforming section:
Source: Miiverse
Head after the break or the rest of this post!
Pankapu: the Dreamkeeper
Good news for Wii U owners: the PayPal campaign for Pankapu: the Dreamkeeper was a success, and the game is indeed coming to Wii U in 2017. If you've never heard about the game before, here's the official description:
Pankapu: The Dreamkeeper is a platform/action game, narrative and episodic. Discovering the dreamlike world of Omnia, the player controls Pankapu, a tiny being created by the God of dreams, Iketomi, in order to defeat the hordes of nightmares that try to infiltrate his world. During his quest he will meet many characters, like the magic spider Chii that will guide him through the meander of Dream Land. He will therefore discover the mystery behind this invasion and lift the veil on this ancestral secrets.

Told in the manner of a fable read to a child, the game has two levels of reading: the story of Pankapu, epic and naïve, and the second one, about Jaha'rell life, the one to whom the tale is told, dark and tragic.
Here's the main features: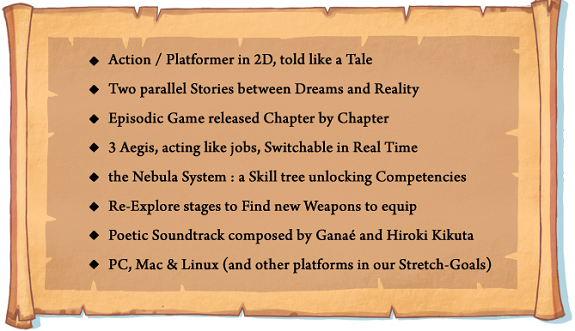 And here's some screenshots/concept-art:
Source: Too Kind Studio