Fire Emblem 25th Anniversary: more info on the two concerts
As announced previously, the official website for the Fire Emblem 25th Anniversary special concerts has been updated today with more information on the show.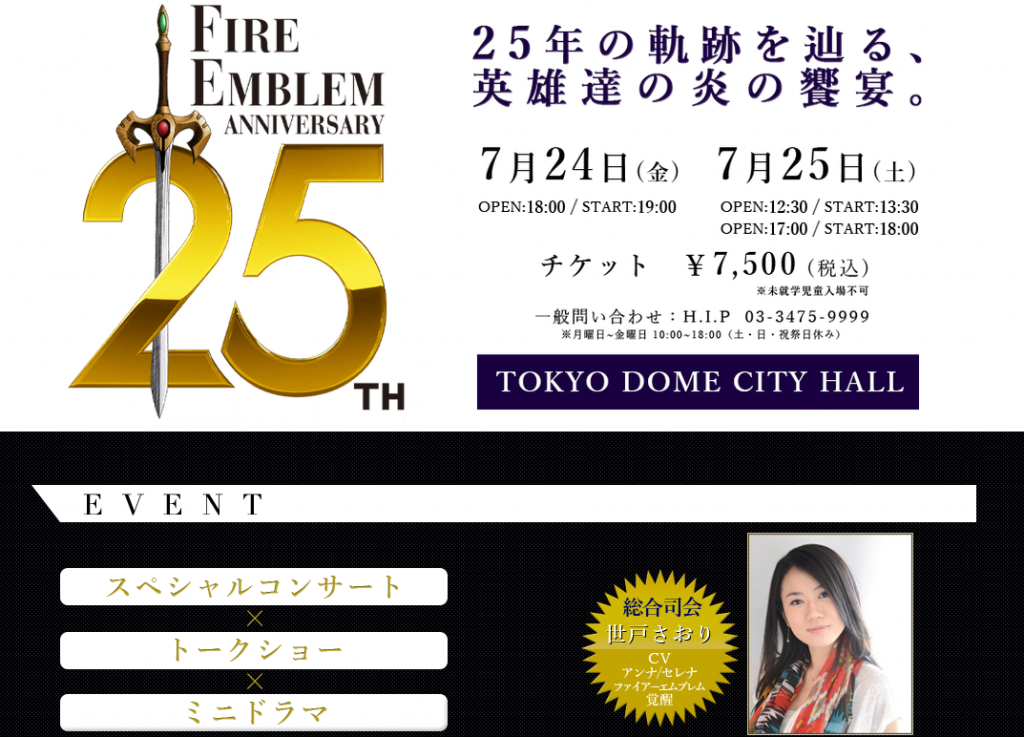 We can learn that the show will be composed of:
– the concert itself, by the Tokyo Philharmonic Orchestra (led by Ikuro Fujiwara)
– a talk show with some of the developers from Intelligent Systems
– a mini-drama show with some of the voice actors from the series;
Satori Seto will be the MC for this special event, which will have 3 different dates (they all take place at the Tokyo City Dome):
– July 24th (opens: 6PM / starts: 7PM)
– July 25th (opens: 12.30PM / starts: 12.30PM)
– July 25th (opens: 5PM / starts: 6PM)
Tickets will cost 7500 Yen (roughly 58€ / 41£ / 62$), with a pre-sale via lottery from April 20th (1PM JST). The general sale from June 7 (at 10AM JST), with tickets sold at the same price in both cases. Unfortunately, we don't know whether the show will be broadcast  on NicoNico like the Zelda: Symphony of the Goddesses concert in February.

Source: Official website