Disney Art Academy: Website open (details, video clip, screens, and more)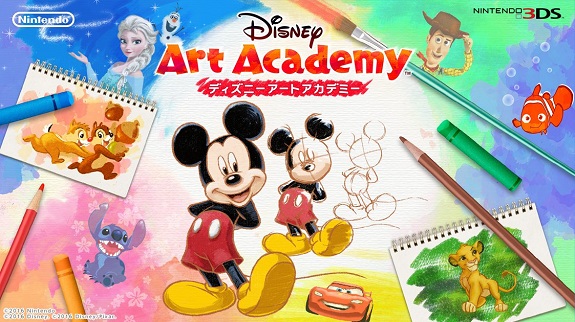 Following the Nintendo Direct, this week, Nintendo opened the official website for Disney Art Academy in Japan. It provides us with some new details about the game, but also some screenshots/artworks, and a short video clip.
Overview video
Here's the Japanese overview video for the game. It introduces the main features of the game, shows some of the tolls you can use to draw, and more.
https://www.youtube.com/watch?v=qvaxz-XrHgQ
Technical details and screenshots
Genre: drawing lessons
Players: 1 / Up to 5 in Local Play
Save data file: 1 (requires at least 512KB)
Internet features: post drawings to Miiverse and social networks (Twitter, Facebook)
Multiplayer: exchange drawings with other players (Local Play, up to 5 players)
Download Play: send trial lessons to other players (up to 5 players)
Here's some screenshots:
Head after the break for the rest of this post!
Academy
Just like other Art Academy games, Disney Art Academy features 40 lessons, divided in several difficulty levels (from beginner to expert). You start with basic drawing of characters, and then you gradually move on to more and more complex drawings.
To draw, you can use various tools, including the Magic Pen: it allows you to add the "Disney touch" to your drawings, with cute little stars.
Depending on the tools used, you will end up with different results: after all, a drawing entirely made with pencils will not look the same as one where pastel was used. For example, you can give a glossy touch to your drawings with the marker pen, or a soft one with pastel. You will have to master all these tools to make the best drawings possible.
Characters
Disney Art Academy will feature 80 drawings of characters from Disney and Pixar:
Illustrations
Once you're done with your drawing, you can save it to your SD card, and then tranfer it to a PC. This allows you to use your drawing as wallpaper on your phone, print it, and more. Of course, you can also share it on social networks, namely Twitter and Facebook. Finally, there's Miiverse, where you can share you creations, and check out those of other aspiring artists.
Disney Art Academy (3DS) comes out on April 7th in Japan, May 13th in North America, and july 15th in Europe.