Daily briefs (Jan. 7): animated Pokémon stickers on LINE, Splatoon mangas, more
Pokémon stamps
After Splatoon, Animal Crossing, and even Yo-kai Watch, here comes some Pokémon stickers. There's 24 of them, and they happen to be animated: click here if you're interested in them!
The set of 24 animated stickers costs:
100 coins
240 Yen
1.99€
£1.49
$1.99
Here's some pictures for the stickers (you can get a live preview on the store page, linked above!):
Splatoon mangas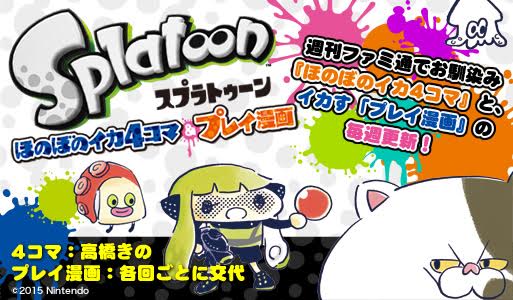 Famitsu announced that two Splatoon mangas would soon be serialised in the magazine:
the first one is Honobono Ika 4-Koma, a 4-Koma manga by Kino Takashi;
the second one will be a collection of stories by various authors, for Play Manga.
Talking of Splatoon, here's a New Year illustration by toi8 (the chara-designer for Genei Ibun Roku #FE):
Via: ANN
Fire Emblem Fates
If you live in the United States, GameStop has a special offer for Fire Emblem Fates. If you buy a special bundle with both games (different from the official Limited Edition, with two games on the same cartridge), you will get three characters keychains. It doesn't matter if you buy the game online or in-store.
Source: GameStop
Circle Entertainment
Yesterday, Circle Entertainment revealed they were working on 2 games for the Nintendo eShop of the Nintendo 3DS. They didn't tell which ones, but they guaranteed players would be surprised.
Can't tell u guys we are preparing for two excellent 3DS eShop games here, let us confirmed them and then We are sure it will surprised you.

— CIRCLE Ent. (@CIRCLE_Ent) January 6, 2016
FreezeMe
FreezeMe is a 3D platformer inspired by classics from the Nintendo 64. On Twitter, the creator confirmed that the game was still coming to Wii U, but that they didn't have a release date yet. No further announcements will be made until they have one.
Nefarious
Nefarious is a side-scroller in which you play not as a hero, but as the villain. The game is coming soon to the Nintendo eShop of the Wii U. Yesterday, the creator posted another update on Kickstarter: click here to read it!
Yo-kai Watch
Here's some more Yo-kai Watch goodies, to be released on January 23rd in Japan:
Source: Inside-Games
Monster Hunter X
Finally, here's a Monster Hunter X plushie coming out this month in Japan:
Source: Famitsu