Shutshimi coming to Wii U next week in North America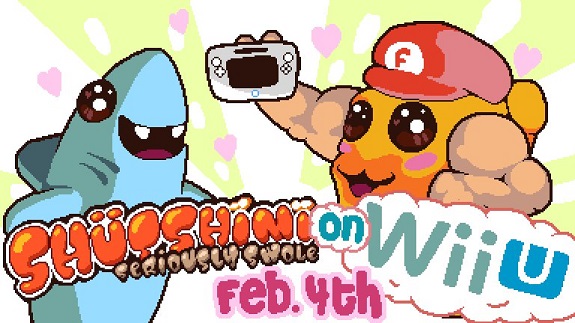 Next week, Choice Provisions (previously known as Gaijin Games) is going to bring Shutshimi to the Nintendo eShop of the Wii U, in North America. For those who don't know, it's a randomised shoot 'em up, in which you control a muscle-bound fish. Through each level, you have to defeat waves of enemies, defeat bosses, and more, using your trusty bullet-morphing shotgun and various power-ups.
The most unique aspect of this game is the 10 seconds limit for combat waves and upgrade cycles, which is due to the incredibly short attention span of the fish you control. On Wii U, Shutshimi will be playable in local multiplayer (up to 4 players), and you will be able to play using Wii U Pro Controllers. It will also be compatible with Off-tv play.
Here's the features of the game:
– Endless waves, endless fun!
– 10 second bursts of shmup action!
– 5 different, upgradeable weapons to choose from!
– Over 30 upgrades to collect! Combine upgrades with different weapons for interesting combinations!
– Hats! Over 30 of them! Some hats unlock hidden "Hattributes" which modify gameplay even further!
– Full keyboard and controller support! Play any way you like, as long as it's either of these two options!
– You can smoke underwater!?
– Leaderboards! Compete with friends and foes for the top score!
– Local Co-op! Work together or screw each other over when competing for the top score (NOTE: Vita version will not contain local co-op)
– There's also a remarkable number of cats!
Finally, here's a trailer for the game:
Shutshimi (Wii U, eShop) will be released on February 4th in North America, and later this year in Europe. Also, there's a chance Woah Dave! is also coming to Europe, though nothing is confirmed at the moment.