Splatoon: new update available (Ver. 2.11.0)
Last month, Nintendo released the last major update for Splatoon (which added support for the Squid Sisters amiibo, and more), quickly followed by another (smaller) update fixing a glitch introduced in the previous one. And today, about a month later, Nintendo released one more update for the game.
Unfortunately, no patch notes are available as of writing, so we don't quite know what it does just yet. Since it wasn't even announced beforehand, it most likely doesn't make any significant change (bug fix, new feature).
Here's the patchnotes for Splatoon ver. 2.11.0:
Fixes for issues in battles
Fixes a bug where if the player would swing specific rollers or brushes while their character was facing towards the screen, enemies would not be hit from the splashes
Adjustments have been made to make for a more pleasant gaming experience.
This update requires only 11MB of free space on your Wii U or external HDD if you already have Ver. 2.10.0 installed (and up to 837MB if you haven't already). To download it, you have two options:
let the Wii U do its thing if you have automatic downloads activated. You should have the latest version of Splatoon installed the next time you turn on your console;
if not, you can launch Splatoon from the Home Menu (not the Quick Start Menu!) in order to trigger the download manually.
To check that you have the latest version of Splatoon, simply launch the game: you should see Ver. 2.11.0 at the top right corner of the screen. You need this version to be able to play online.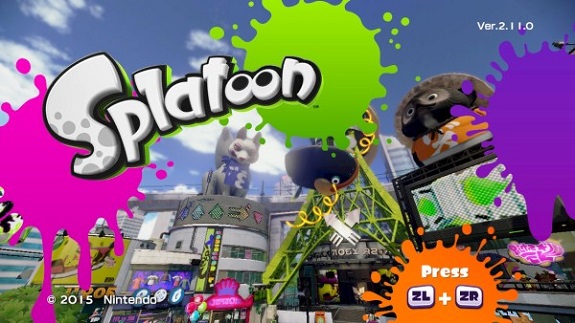 Source: Nintendo