Rising Star Games bringing Ishi-Sengoku-Den Sadame to Europe and North America
Update
Rising Star Games has confirmed that Sadame would also be released on February 25th in North America. You will also find a trailer for the game below!
***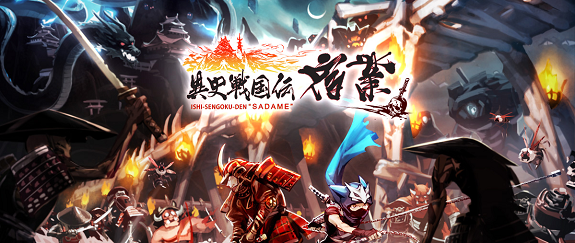 Ishi-Sengoku-Den Sadame is the name of an Action-RPG developed by Mebius. It's a hack 'n slash taking place in the Sengoku era, which came out on Nintendo 3DS in December 2014 in Japan. Good news for players who were looking forward to that game in English: Rising Star Games is bringing that game to Europe (on February 25th) and North America (later this year), where it will simply be called Sadame (which means "fate" in Japanese).
You get to play as four different characters, each with their own abilities and gameplay, but also their own story:
Using swords, spells, and arcan abilities, you have to slash through hordes of demons. The game features dozens of stages, over 20 different bosses, and more. There's also loot to collect, but also weapons to enhance and characters to level up in order to have them learn new abilities.
But once you're done with the main story, there's still a lot more to do: there's branching paths in the story, which means you will be able to replay the game several times. What's more, loot is shared between multiple save files, and your pevious heroes can help you in battle.
Here's the main features of the game:
four playable characters (Samurai, Ninja, Monk or Rogue), each with their own abilities, gameplay, and story
deep RPG elements: new abilities to learn, levelling up, equipment upgrades via enemy loot drops, and a massive skill tree
dozens of levels and over twenty bosses
customised experience via weapons, upgrades and levelling, but also with certain events and encounters available only to certain heroes
new difficulty levels to unlock with successive playthroughs, while weapons + armour is shared across multiple character save files
heroes to collect via StreetPass. You can use them as support PC, along with locally saved heroes.
Here's some pictures:
Finally, here's the trailer for the game:
Sadame (3DS, eShop) will be released on February 25th in Europe and North America.
Source: Rising Star Games