Nintendo news (Jan. 3) – Fire Emblem Fates: more details on the Leo manga, more
Today's Nintendo news: a few more details about the new Fire Emblem Fates manga, but also…
Animal Crossing: New Leaf – Welcome amiibo
Fire Emblem Fates
A few days ago, we learned that Yugyoji Tama was working on a manga based on Fire Emblem Fates, and focused on Leo. It will begin serialisation in the next issue of Comic Zero Sum, releasing on January 28th in Japan.
In a blog post, Yugoyji Tama explains that she's a bit nervous to work on a series like Fire Emblem, which has quite the history (it did celebrate its 25th Anniversary in 2015, after all). Her goal is to create something that could be enjoyed both by long-time fans, and those who will discover Fire Emblem (Fates) thanks to this manga.
As for the story, it will focus on Leo, the second youngest brother of the Nohrian Royal Family. It looks like it will be an original story (not simply an adaptation of the game's story), taking place within one of the routes. Wich one? We don't really know, as she's actually keeping that a secret!
Here's an illustration Yugyoji Tama shared on her blog: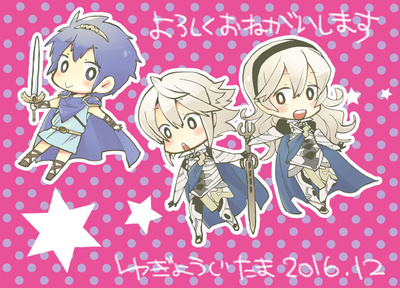 And here's an ad for it:
Source:
Yugyoji Tama
Animal Crossing: New Leaf – Welcome amiibo
Here's the latest trailer for Animal Crossing: New Leaf – Welcome amiibo, showcasing the Isabelle amiibo: