Nintendo eShop: download codes now available via Amazon.com (NA)
Even though Nintendo is yet to launch a web version of its Nintendo eShop, the company is still giving more and more ways for users to buy digital contents for their consoles (Wii U and Nintendo 3DS).

A few months ago, a new service was launched on Nintendo's official website in the United States and in Canada, which allows fans to buy games directly from there, and have them delivered right to their console automatically by using their Nintendo Network ID. It even works with pre-orders, and it's possible to ask for a download code if you want to gift a game to a friend or family member.
And starting this week, a new service is available to North American users: digital download codes via Amazon.com. The best thing? You don't even need to input your code on your Wii U and Nintendo 3DS to start the download! Here's how you do it:
you buy the digital code via Amazon, as you would any other item;
on the Thank you page, click on the Nintendo Network link
log in using your Nintendo Network ID
the download code will auto-populate, and you only have to click "Submit" to start the download (provided you have automatic downloads activated on your console).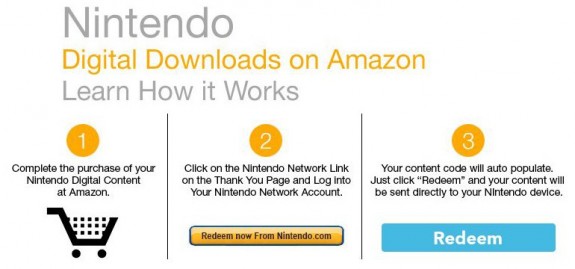 Right now, dozens of Nintendo 3DS and Wii U games (digital-only or retail) can be bought via Amazon.com and delivered automatically to your console. Unfortunately, there's catch: you can only use this service if you own a North American Wii U or Nintendo 3DS, which isn't all that surprising since the Nintendo eShop and the consoles themselves are region-locked.
Source: Amazon