[Update] Next Level Games working on a Wii U game?
Update
Dan Pratezina seems to have realised people found out about his sudden interest for the Wii U, and has prompty removed any mention of the console on its website.
***
Luigi's Mansion 2 came out in March 2013, which means Next Level Games have been hard at work on their next project for almost 2 years now. Since then, the studio has confirmed it would work exclusively with Nintendo from now on, so there is no doubt the game they're currently working on is for a Nintendo console. The real question is: which one? Wii U, or Nintendo 3DS?
And it turns out Next Level Games next game might be on Wii U. Dan Pratezina is "currently contracted as a presentation animator at Next Level Games in Vancouver", which is said to be an "upcoming Nintendo IP". Does this mean a brand new IP? Unfortunately, we'll have to wait until Nintendo finally decides to reveal the game to see what kind of IP it is.
The reason why Next Level Games's next game might be on Wii U is because of a message posted in January on his official website: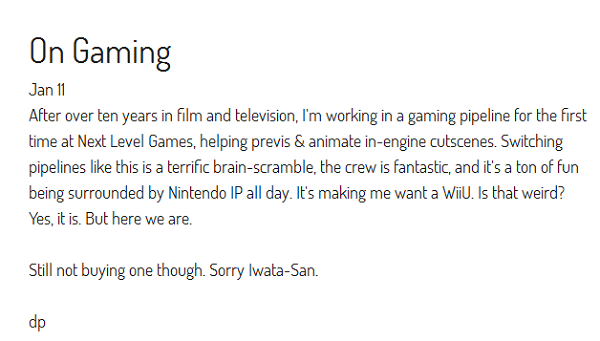 He also talk about his work at Next Level Games on his LinkedIn page:


Now, this doesn't actually confirm anything, but it's certainly a rather interesting thing to say! Also on his website, he says his contract with Next Level Games runs until June 2015, meaning the development of that mysterious game must be nearing completion (or will in the upcoming weeks/months). Therefore, an announcement at E3 (or during a Nintendo Direct) is likely, though not confirmed just yet.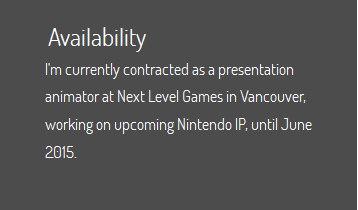 Of course, until Nintendo makes an official announcement, all we can do is speculate. Fortunately, it looks like we won't have to wait too long before we can discover Next Level Games's new project!
Source: Dan Pratezina / LinkedIn