Yoshi's Woolly World coming out in July in Japan, screenshots and JP boxart
Today, Nintendo is streaming a new Nintendo Direct presentation, but this one is only for Japan. Presented by Mr. Morimoto, it will focus on Nintendo 3DS and Wii U games coming out this Summer. And as we mentionned in the Nintendo Direct announcement post, Yoshi's Woolly World is one of the most likely candidates for this new presentation.
And it turns out that Yoshi's Woolly World will indeed be showcased later today during the Japanese Nintendo Direct, and will even get a release date. However, it looks like we wont have to wait for the presntation before getting it! If that page from Amazon.co.jp is to be believed, the game will come out on July 15th.
However, this page is for the download version, which is always released at 10PM the day before, which means the actual release date is July 16th… Nintendo actually confirmed it during the Nintendo Direct earlier today. A bundle including the game + a Yarn Yoshi amiibo was also announced, just like the three Yarn Yoshi amiibo (Pink, Blue, Green), and will also be released on July 16th in Japan.
The prices will be:
– game: 5700 yen;
– bundle: 7000 yen;
– amiibo: 1800 yen each.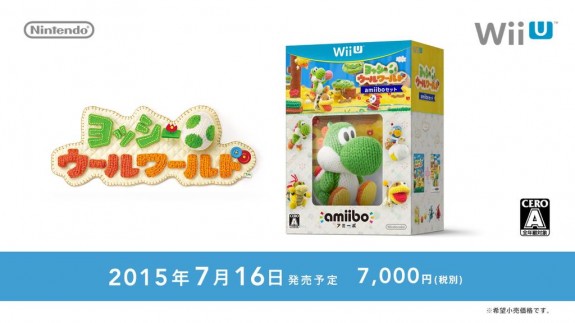 Also, the page from Amazon.co.jp indicates that the game will be quite big, as it will require 7.9GB of free space.
Here's some screenshots for Yoshi's Woolly World, as well as the Japanese boxart:
Yoshi's Woolly World (Wii U) comes out on June 26th in Europe, and later this year in Japan and North America.
Source: Amazon.co.jp
Thanks NintendoTweet for the heads up!