Mario & Sonic at the Rio 2016 Olympics: details and screens (Duel Events, amiibo, more)
Update
We just added a gameplay video from Nintendo: you will find it below, after the break!
***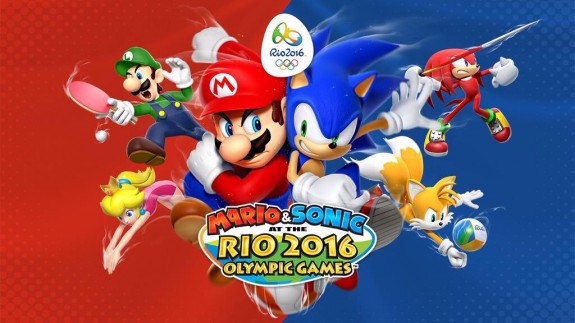 Mario & Sonic at the Rio 2016 Olympics is already available on Nintendo 3DS, but the Wii U version will only be available next month. What's more, we still know very little about it, but thanks to a press release from Nintendo, we finally have some proper details (and plenty of screenshots) for it!
The Wii U version of Mario & Sonic at the Rio 2016 Olympics features the brand new Duel Events, which are playable with only three sports:
Rugby Sevens
Football
Beach Volleyball
Duel Events are spiced-up versions of the original sports, where items such as Bullet Bills or Chaos Emeralds are allowed. In those events, you get Duel Points by tackling opponents, spiking, or shooting. Then, you need to score a try, point, or goal in order to add those Duel Points to your score.
Next, Nintendo introduces the Heroes Showdown mode, one of the new additions for Mario & Sonic at the Rio 2016 Olympics. It's not accessible right from the start, as you need to do the following to unlock it:
achieve first place (or be part of the winning team) in all 17 events in Single Player;
OR
win the Bronze medal more than seven times in tournaments.
In this mode, you have to join either Team Mario or Team Sonic, and then compete against the other team in knockout rounds. Both teams play through a randomised series of events, and after every round, a character from the losing team is knocked out of the game. The game keeps going until all the members of a team are out, and the one with members still standing wins.
And if you're wondering what amiibo do in this game, here's the rundown:
Sonic: unlock the Sonic League, where yourMii has to compete against characters from the Sonic series. You unlock a special Sonic costume by beating this League;
Mario (any amiibo series will work): unlock the Mario League, where your Mii has to compete against characters from the Mario series. You unlock a special Mario costume by beating this League;
any other amiibo: you get coins and rings to use at the Item Stand, in order to get additional costumes.
Head after the break for the rest of this post, and over 60 screenshots!
The game features over 30 playable characters, including your very own Mii. You can collect coins and rings, and then use them to buy costumes from the Mario and Sonic series (most likely, each currency is used to buy costumes for its own series). Some of the playable characters are only available in certain events.
Talking of events, the game will feature 17 of them, including:
Boxing
Archery
100m Sprint
Rhythm Gymnastics (new)
Rugby Sevens (new, first time at the Summer Olympics)
And as mentioned previously, all the events take place in venues modelled after the real-life venues from the Rio 2016 Olympics. As for the controls, you can use either the GamePad (Single Player) or a Wii Remote (buttons only, Multiplayer).
Finally, here's over 60 screenshots for Mario & Sonic at the Rio 2016 Olympics on Wii U…
… and a gameplay video, with a very graceful Bowser:
Mario & Sonic at the Rio 2016 Olympics (Wii U) comes out on June 23rd in Japan, and June 24th in Europe and North America.
Source: Nintendo PR