Ace Attorney anime series to get a second season in October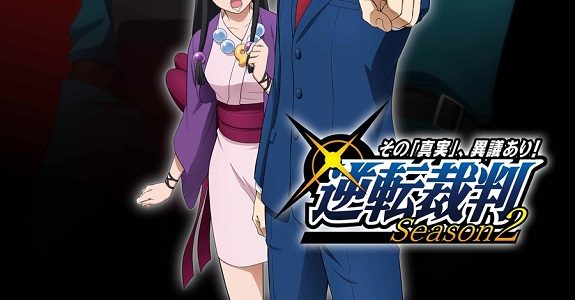 Back in April 2016, the very first anime based on the Ace Attorney series debuted in Japan. Called "Gyakuten Saiban: Sono "Shinjitsu", Igiari!" (lit. Ace Attorney: I object to this "truth"!), it aired from April to September, with a total of 24 episodes covering the first two games in the series (Phoenix Wright: Ace Attorney and Phoenix Wright: Ace Attorney – Justice fo All), but didn't cover all cases.
And today, it was announced that a second season would debut this Fall in Japan (in October to be precise). Very little details are available at the moment, other than A-1 Pictures once again being in charge of animation production, and Yomiuri TV airing the show.
This second season is supposed to take over from where the first season ended, with the key visual making it pretty clear it will cover the events from the third game (Phoenix Wright: Ace Attorney – Trials and Tribulations). However, it's not clear whether the missing cases from the first two games will be covered or not, or how many cours the season will last).
Here's the key visual:
Finally, here's the cast and staff list for the second season of the anime series:
Phoenix Wright: Yuuki Kaji
Maya Fey: Aoi Yuuki
Miles Edgeworth: Masashi Tamaki
Mia Fey: Chie Nakamura
Dick Gumshoe: Masami Iwasaki
Larry Butz: Tooru Nara
Director: Ayumu Watanabe (same as Season 1)
Assistant Director: Yukiko Imai
Series Composition: Atsuhiro Tomioka (same as Season 1)
Character Design and Animation Director: Keiko Ota
Music: Kaoru Wada (same as Season 1)
Animation Production: A-1 Pictures (Koenji Studio)
Last year, Capcom revealed that the Ace Attorney series was coming to the Nintendo Switch, in the current Fiscal Year (that ends in March 2019). It looks like the company is going for the anime + game combo, like they were in 2016 with the first season of the anime series and Phoenix Wright: Ace Attorney – Spirit of Justice.
Regarding the second season of the anime series, it's highly likely Crunchyroll will simulcast it like they did with the first season, but it's going to be months before we get an announcement (we usually don't get those until pretty close to the debut date).
Source: 4Gamer